ကမ္ဘာ့ပဲမျိုးစုံနေ့အခမ်းအနား ၂၀၂၁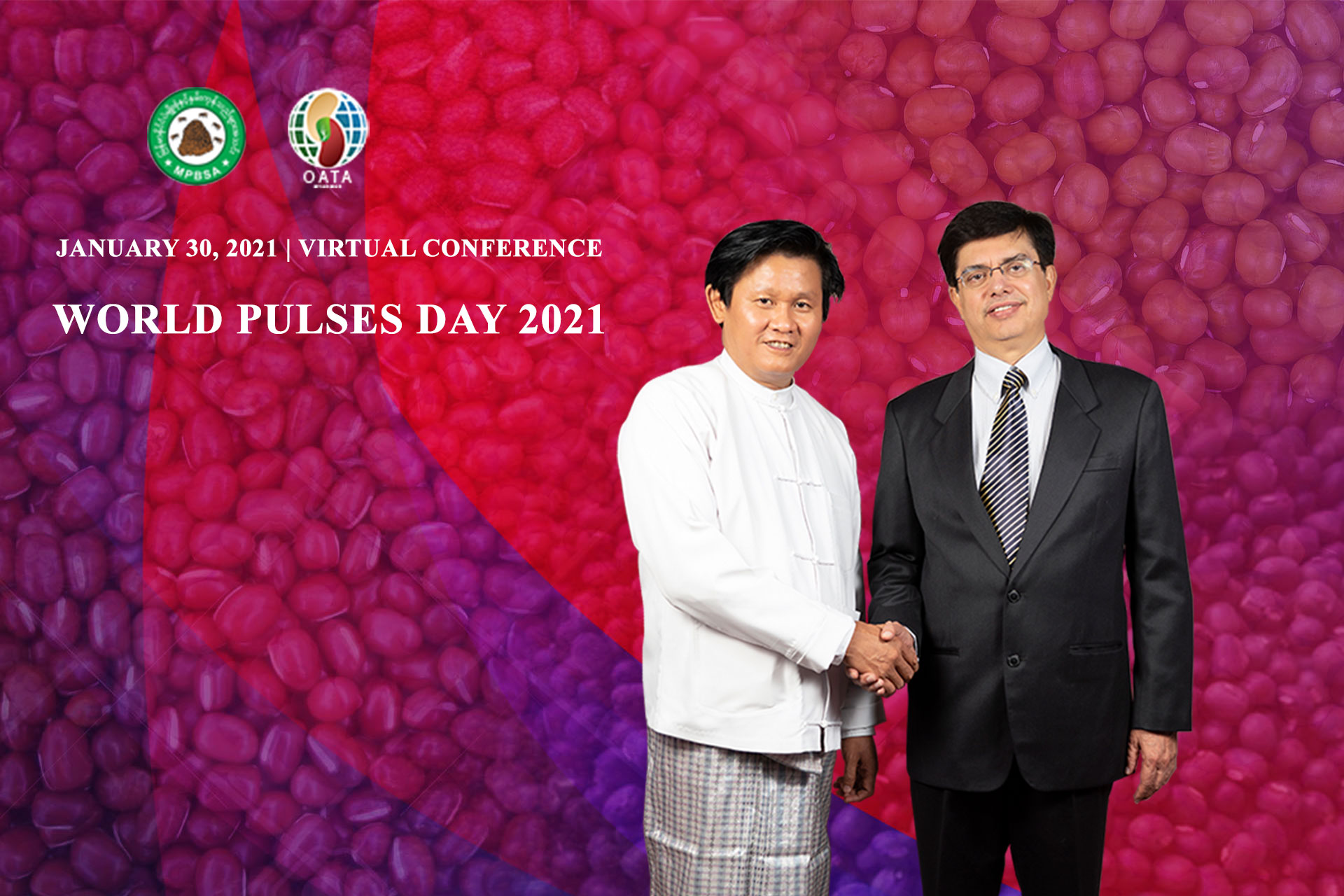 January 30, 2021
11:00 am to 4:30 pm
Virtual Conference
+951-2314828
Event Update
TODAY IS THE DAY OF TO THE WORLD PULSES DAY 2021 VIRTUAL CONFERENCE !
We want to welcome everyone to join us NOW
11:00 AM Opening Ceremony by
Dr. Than Myint, Union Minister, Ministry of Commerce
Dr. Aung Thu, Union Minister, Ministry of Agriculture, Livestock and Irrigation
Shri Saurabh Kumar, Indian Ambassador to Myanmar
U Zaw Min Win, President of UMFCCI
U Tun Lwin, Chairman of MPBSMA
Shri Vatsal Lilani, President of OATA Myanmar
Ms. Cindy Brown, President of GPC
To find out more about our distinguish speaker of the event, please click on the following link
Chairman MPBSMA
Event description
Dear Central Executive Committee Members, Executive Members, Members of the Association and all the other friends from the Beans and Pulses Industry of Myanmar,
==========================
*The World Pulses Day event starts on Saturday 30th January 2021 at 10 am Indian time, 11 am Myanmar time or 12:30 pm Singapore time.*
We have interesting panels on Trade , Soil Health, Nutrition through Pulses and how cutting edge Satellite technology can be harnessed for Agriculture.
Please click on the link below five minutes prior to the event .
https://wpdmyanmar.com/WPD-2021-schedule-list.html
To find out more about our distinguish speaker of the event, please click on the following link
https://wpdmyanmar.com/speakers.html
If you have any questions leading up to the event, feel free to reply back to me or send an email to info@wpdmyanmar.com
We hope you find the event informative and shall look forward to your suggestions post the event so we can improve ourselves going forward.
We look forward to seeing you on 30th January !
Best Wishes
U Tun Lwin
Chairman MPBSMA
Why you should attend World Pulses Day 2021
Celebrate World Pulses Day
On January 30th, connect with us to share your love of pulses:
Distinguished Speakers
A distinguished speakers lineup on the latest trends and developments.
Global Trends
More than 500 pulse industry leaders from over 50 countries.
Market Insight
Panels of industry experts sharing insights on the market outlook.
Expand Network
Unparalleled networking opportunities.